Precision engineering, bowed rollers, turning machining, milling machining, chroming, grinding and fabrication
Here at Premium Engineering, our team strives to supply consistent and superior engineering products and services. Premium Engineering supplies the printing and packaging industry with quality and precision engineered products. With our advanced workmanship and high quality machinery, our products are designed to meet the needs of our valued customers.
Founded by Nandha Moodley in 1999, Premium engineering has flourished. With over 32 years of experience, Nandha Moodley is a re-owned and respected figure in the polyurethane and rubber industry. Premium Engineering offers forward thinking and progressive services. This dedication is what sets us apart as an industry leader.
The factory is stocked with the most advanced machinery available to date. As technology within the industry evolves, so will Premium Engineering, keeping us one step ahead of our competitors.
Our products and services include
Quality Engineering Workmanship and Technological Superiority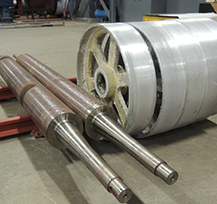 Premium Engineering is located in a purpose built facility that is owned by the company. We are proud to be accredited in association with leading companies in the printing, packaging, textile and paper industries. Our technological and mechanical superiority, as well as experienced and driven staff, allows us to thrive and maintain the competitive edge in the industry.
Our company offers specialised solutions including: milling machining, bowed rollers and gear cutting and general engineering fabrication. Our organisation strives to supply consistent quality and outstanding workmanship.